About
delResearch means experience
As a design team with over 50 years of embedded software development expertise, we have fielded and supported hundreds of varied products. Our software lives in products available at your local electronics store, to undersea research equipment deployed at the bottom of the ocean. It lives in high end embedded Linux based computers as well as 50 cent microcontrollers. We know what it takes to develop a reliable product, with a full feature set, in an environment where price and time to market is critical.
We are experts when it comes to embedded software design, from bootloaders to built in test. Although we are software experts, we know and understand hardware. We consistently add value to designs in the area of hardware IO, data conversion, and hardware functionality partition.
delResearch means innovation
Our engineers at delResearch are about solving problems. Whether its about achieving a desired throughput in a new driver, or picking a weak signal out of noise, we have the experience, background and tools to deliver the optimal solution.
Finding the best embedded solution for a particular scenario often requires bringing varied skills together. These skills range from mathematical modeling with MATLAB, system level hardware techniques, to design paradigms of software structure and optimization techniques. At delResearch, can bring all of these skills to finding the "peak of the curve" for your embedded product.
Our engineers hold 7 patents in varied aspects of engineering and software design. We are innovators who will make your product better.
delResearch means carefully controlled design and test
Great embedded software must be carefully developed. The embedded software needs to be testable over a maximum code coverage tests space. At delResearch this testability is designed from the start of the project. This results in software with associated test-vector suites, MATLAB bit-matchable models, or a variety of built in test routines.
All delResearch code is source controlled at every step of the way.
delResearch means top-notch technical support
At delResearch we are committed to delivering quality services and products, and strive to offer a high standard of technical excellence. Our software is well written to internal standards of structure and clear documentation.
Software integration is typically done on the customer premises and we stay onsite until our deliverables are tested and demonstrably working as designed.
delResearch means faster time to market without the headaches
At delResearch, we are here to help. We work with your experts to lighten the load. Let our experts help you with your next design.
Here are just a few companies that use delResearch: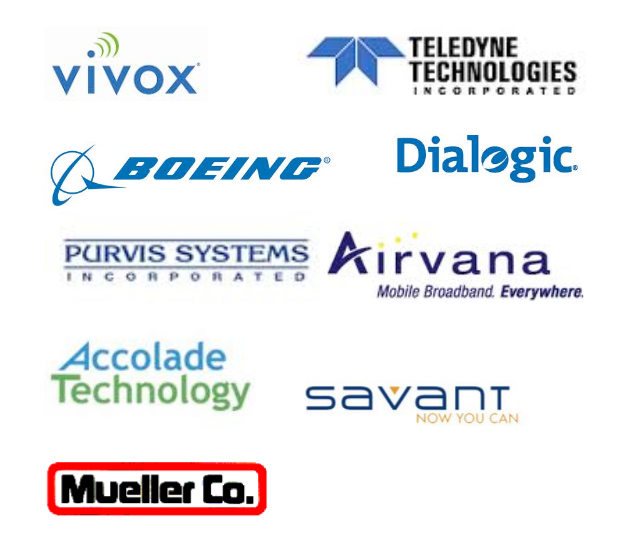 Contact us
delResearch LLC
221 Old Main Street
Sandwich, MA
02563-2044
(888) 982 8358
Email